Dental Implants
Brighten your smile and feel secure when going through your day by choosing dental implants from New Smile. Dental implants are titanium posts that have been surgically attached to the jaw. Once they are in place, we attach artificial replacement teeth to these posts.
Since these implants are fused into your jaw, the new teeth are quite stable. Whether you are chewing, talking, or whatever else, the teeth will not slip or move as you go through your daily life. Many people say their implants feel more natural than dentures or traditional bridges. For some people, bridges and dentures are not even an option due to the shape or condition of the mouth. If this is the case for you, dental implants may be the best possible choice.
In order to receive implants, your gums and bone must be in adequate condition, as these are responsible for supporting the implant. Thorough oral hygiene is also needed in order to keep your health and maintain a clean smile. If you feel as though dental implants may be a good option for you, reach out to us today. New Smile is proud to offer quality services of all kinds in our office. We won't need to refer you to another dentist; we can do everything you need right here. Call us now to schedule your appointment.
Prevent Premature Aging With Dental Implants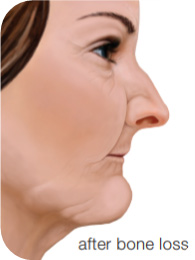 Effects of tooth loss
When a tooth is lost, the jawbone begins to shrink and becomes brittle from lack of exercise.
Losing teeth not only affects your smile, but it also changes the shape of your face causing you to
look prematurely aged.
Dental implants prevent premature aging and bone loss caused by missing teeth.